Emergency Repairs, Maintenance & Inspections
Fast 24/7 Emergency Response - No Callout Fee
If your property loses power or your appliances fail unexpectedly, Chiswick Electricians will quickly diagnose the problem and restore electricity. We attempt to react to your call within a couple of hours, or 45 minutes if there is a life-threatening situation.
We understand how costly and inconvenient power outages or other electrical problems can be for your company.
We will always reply within 2 hours of your call anywhere in central London if you have lost power or are in a risky power condition.
Despite our best efforts, not all electrical issues can be resolved immediately. While we will always make your electrical installation safe, it may take a little longer to repair. If we need to repair a component or appliance, for example.
In such case, we'll still try to locate the part and resolve the issue within 24 hours. We can also help you avoid future problems with regular electrical maintenance, inspections, and testing services, as part of our variety of electrical services.
Is It An Electrical Emergency?
Power outages caused by electrical companies are irritating, but they are not an emergency. A loss of power that just affects your property, on the other hand, is an electrical emergency that need the services of a professional electrician. These are the most common instances in which you should contact an emergency electrician as soon as possible.
Power Loss
Planned electricity power cuts are inconvenient, but not an emergency. However, complete loss of power that only affects your home, is an emergency needing an electrician to fix.
Burning Smell
Electrical fires can start with no warning other than a burning smell so if you notice one from an electrical device, it could be a serious issue about to cause a lot of damage if left untreated.
Sparks Flying
Sparks from an outlet when being plugged in, or unplugged is a warning sign. This could potentially cause an electrical fire, so be sure to get your plugs serviced if sparks are an issue.
Faulty Wiring
Dimming or flickering lights can indicate a wiring issue, posing a danger to your home and family, so should not be ignored. Whether your home is brand new or old. Get it fixed ASAP.
More Reasons To Call An Electrician
If electrical failures are overlooked, they can result in property damage and human harm. Electrical systems are intricate; don't take any chances with your safety. Even better, enrol in an electrical maintenance programme.
Socket Overload
Overloaded socket points are an electrical hazard at any time, but even more so when they are positioned next to flammable objects, where heat build-up can cause an electrical fire.
Blown Fuses
If the circuit breaker is tripping regularly, it's a sign that your wiring needs to be re-done as it's not capable of catering for the demands that are being put on it in terms of energy output.
Overheating
An overheated plug can become a much bigger issue if it's not looked at. The usual cause is a loose wire – either in the socket or in the plug – but it's still cause for concern.
Electric Shocks
Electrical shocks when touching a plug or cord could lead to devastating damage or even death so it's essential that the relevant items are inspected and repaired by a professional.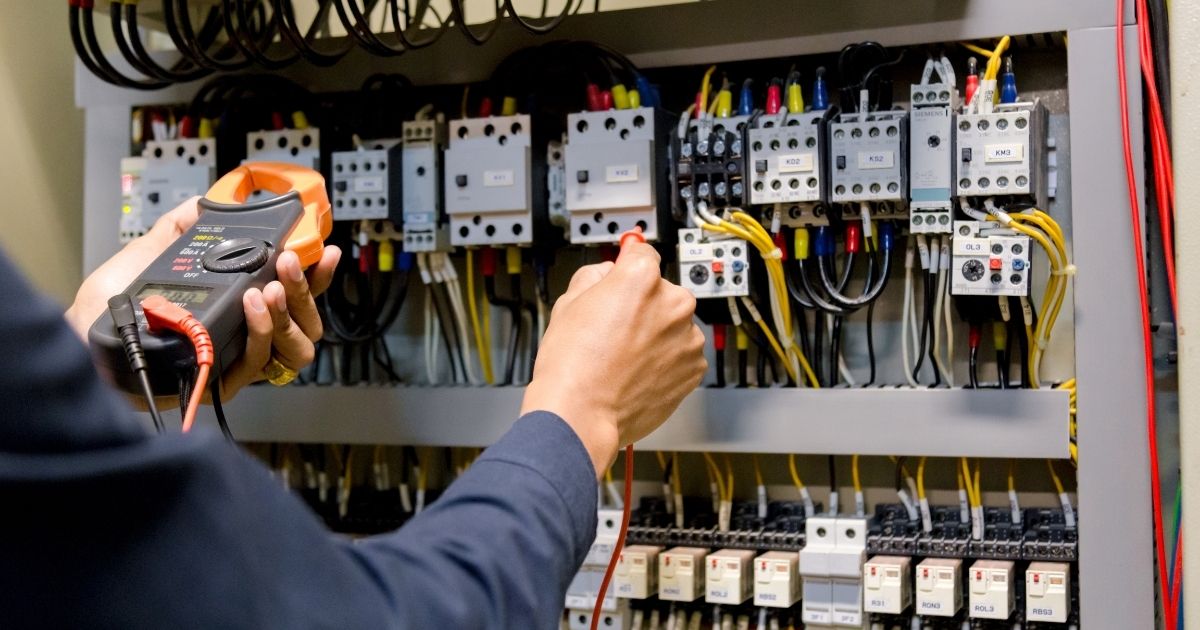 The Only Electrician You Need
We're happy to provide a comprehensive choice of skilled electrician services, beginning at only £70 per hour including VAT:
Property Wiring & Rewiring
Emergency Power / Surge Protection
Fuse Board Upgrade / Replace
Lighting Design & Installation
Exterior Security Lighting Installation
Smart Heating / Lighting Automate
Energy Efficient Heating & Lighting
Air Conditioning System Installation
Emergency Lighting Solutions
Circuit Breaker Replacements
Smoke & Fire Alarm Systems
Electric Car Charging Points
CCTV & Security Systems
Power Point Installations
Landlord / EICR Inspection
Maintenance & PAT Testing
Electrical Quotes at a Fixed Price
We're both one of the most efficient, cost effective and experienced electricians in London, with hourly prices starting at just £60 including VAT. Give us a call immediately at 0203 105 7671 if you need an electrician, especially in an emergency.
Whether the task is big or little, home or commercial, make sure you use the finest electrician for the job to avoid power outages or damage caused by bad electrical work. We're a terrific choice if you want the job done correctly the first time.
Electrical repairs from £70 / hour + VAT
From £70 + VAT per socket / switch
New / replacement fuse box £550 + VAT
Inspection / Certificates from £175 + VAT
Choose Chiswick Electricians when you need home or business electrical work done in London. In collaboration with Building Vison London Ltd, we provide 24/7 emergency callouts, repairs, instals, maintenance, testing, and landlord inspections across the Chiswick region of West London. Please contact us if you have any queries or require assistance.