PAT Testing, Maintenance, and Repairs Commercial Electrical Design and Installation
Electrician Prices From £70 /Hour + VAT
Chiswick Electricians offers a comprehensive variety of business electrical services. For all full and partial rewires, we provide a free survey and set pricing, so you'll know the precise cost up front and won't be surprised once the job is completed.
We'll always provide you a quote before doing any further work. From the first study through the safe completion of your new electrical installation, we handle it all. To guarantee compliance with all necessary electrical laws and safety requirements, all new wire is earthed and cross-bonded.
All electrical installations, extensions, and renovations are completed to BS7671 standards in order to meet the most recent safety laws, such as Part 'P' of the Building Regulations, the Electricity Supply Regulations, and the Electricity at Work Regulations.
On completion, a certificate of compliance is provided, stating that it fulfils all applicable safety criteria. You should preserve an Electrical Installation Certificate (EIC) or a Minor Electrical Installation Works Certificate (MEIWC) in a secure place.
Innovative Business Electricians
We offer complete electrical schematic design and installation for new buildings, as well as renovations and repairs for existing company locations. Wiring, smart office and industrial communications, heating, lighting, UPS, fire alarm, and security systems, as well as regulatory inspections, testing, maintenance, and emergency repairs are all included in our services.
Most businesses now consume more electricity than they did 20 years ago, and they may be underpowered to meet current demands. We can provide advice on modifications and enhancements to ensure that your systems can safely manage higher loads, satisfy energy efficiency standards, and fulfil Building Regulations.

We conduct significant renovation projects for new additions and building conversions with little disturbance to your business, in collaboration with sister firm Building Vision London.
Lighting Design & Installation
Lighting may be utilised to create ambiance and refinement, as well as to draw attention to certain architectural aspects and décor. We can install recessed lighting on ceilings practically anyplace, including stores, offices, and entry halls, utilising energy-saving LED fixtures, warm Halogen lights, or efficient Compact Fluorescent Lamps (CFL) for decreased glare in workplaces.
For both consumers and staff, high-quality lighting will improve the visual appeal of any corporate setting. Your lighting selections have an impact on your energy expenses. In all working areas, such as stores and offices, hotels and restaurants, salons and clinics, warehouses and industrial units, we provide commercial lighting design guidance and solutions for greater energy efficiency.
We can also supply emergency lighting for any commercial circumstance, as well as energy-efficient outdoor landscape/security lighting to discourage crime, including motion detectors, floodlights, occupancy sensors, and tree lights to match your company's specific demands.
To keep your business secure and enable the safe evacuation of occupants in the case of an emergency, electricians may give guidance and technical solutions such as emergency escape route illumination, backup lighting, outside security lights, and electrical safety devices.
As a result, all emergency lighting in commercial buildings must be tested on a regular basis, including 'flick' testing to verify that it is operational and maintained in accordance with fire safety and construction rules. Regular inspections of fire safety systems are also recommended.
In the event of a power outage, a commercial standby or backup generator linked to the main distribution board circuitry will immediately power up and deliver electricity within seconds. When electricity is restored, the generator shuts down automatically. The addition of a USB battery to the generator eliminates the time lag, ensuring that power is maintained during the generated power transition, which is often critical for the protection of corporate data.
Computers, air conditioners, scanners, printers, TVs, security systems, refrigerators, alarm systems, microwaves, and phone systems are all examples of electrical gadgets and appliances that may be entirely destroyed by power surges. Internal causes, such as defective wiring, and external sources, such as lightning or downed power lines, can both create surges.
A UPS circuit continually checks voltage. As soon as it detects a surge, it switches to AC power, preserving your equipment. We can also provide economical surge protection if you don't have a UPS to prevent high voltage spikes, safeguard vital data, minimise business inconvenience, and avoid having to replace expensive equipment.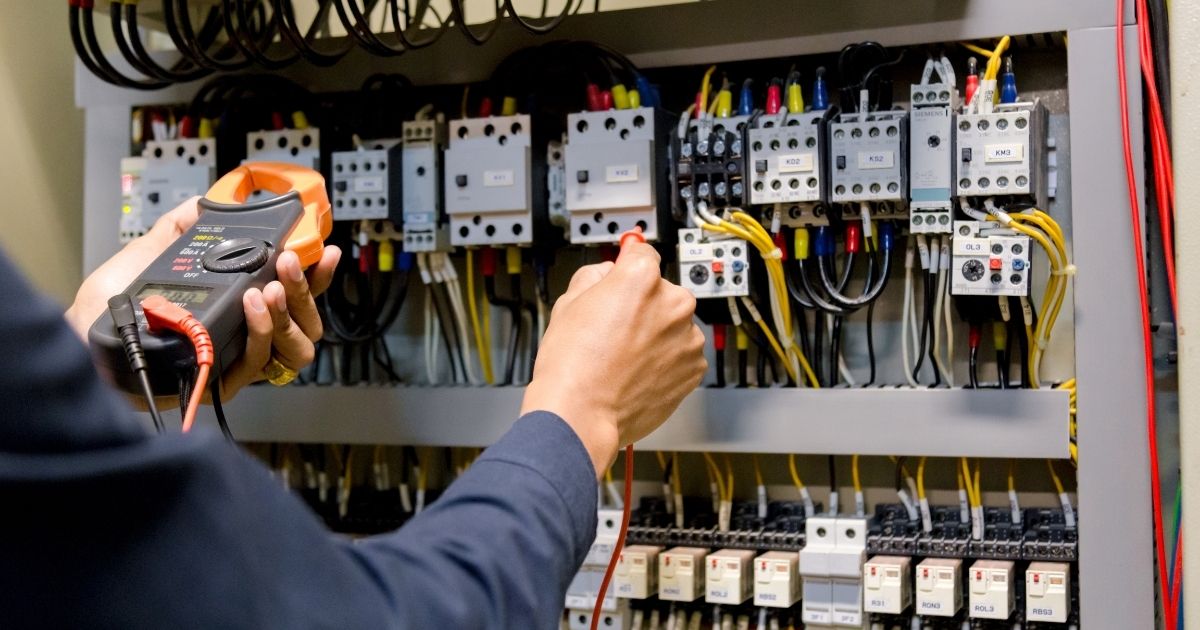 Electrical Quotes at a Fixed Price
We're both one of the most efficient, cost effective and experienced electricians in London, with hourly prices starting at just £60 including VAT. Give us a call immediately at 0203 105 7671 if you need an electrician, especially in an emergency.
Whether the task is big or little, home or commercial, make sure you use the finest electrician for the job to avoid power outages or damage caused by bad electrical work. We're a terrific choice if you want the job done correctly the first time.
Electrical repairs from £70 / hour + VAT
From £70 + VAT per socket / switch
New / replacement fuse box £550 + VAT
Inspection / Certificates from £175 + VAT
Choose Chiswick Electricians when you need home or business electrical work done in London. In collaboration with Building Vison London Ltd, we provide 24/7 emergency callouts, repairs, instals, maintenance, testing, and landlord inspections across the Chiswick region of West London. Please contact us if you have any queries or require assistance.